Proposal Submission
note
This page is a work in progress.
Proposals play a vital role in the functioning of decentralized applications. Any changes or upgrades are done only after proposals are voted in consensus. But there is no standard category to distinguish different types of proposals. Having a clear category will help communities manage different proposal types easily.
Any LORE holder, whether bonded or unbonded, can submit proposals to the system. There are currently three forms of governance proposals supported by Gitopia - Text-based, Parameter change, and Token/Budget Allocation Proposals. Before drafting a proposal, you'll first want to determine which kind of proposal you are making. Be sure to review all details of your specific proposal type.
Best Practices for Drafting a Proposal​
Engage directly with the voting community and seek feedback: Raise your proposal in Telegram or discord channel. This will give you the opportunity to discuss with other network users and developers and further develop your ideas. Other participants may have some interest in the proposal and offer to further improve your proposal, or you may find that this idea has no support or maybe has already been satisfied in some other way.

Draft Proposal: Begin with a well-considered draft proposal and engage the community with your draft proposal. Ensure that you have considered your proposal and anticipated questions that the community will likely ask. Once your proposal is on-chain, you will not be able to change it. Consider making appropriate changes to your proposal based on feedback from the community.

Submit your proposal on-chain: Once you are confident about your proposal, you can submit on-chain for voting. A majority of the voting community should probably be aware of the proposal and have considered it before it goes live on-chain. If you're taking a conservative approach, you should have reasonable confidence that your proposal will pass before risking deposit contributions. Make revisions to your draft proposal after each stage of engagement.
Submitting a Governance Proposal​
If you have a final draft of your proposal ready to submit, you may want to push your proposal live on the mainnet. In Gitopia, you can submit proposals using either the CLI or the Gitopia web app. Here we will discuss the procedure of submitting a proposal using the Gitopia web app.
Step 1: Navigate to Proposals​
On the Gitopia homepage, click on Proposals in the bottom left corner, as shown below. This will take you to the Gitopia Proposals page.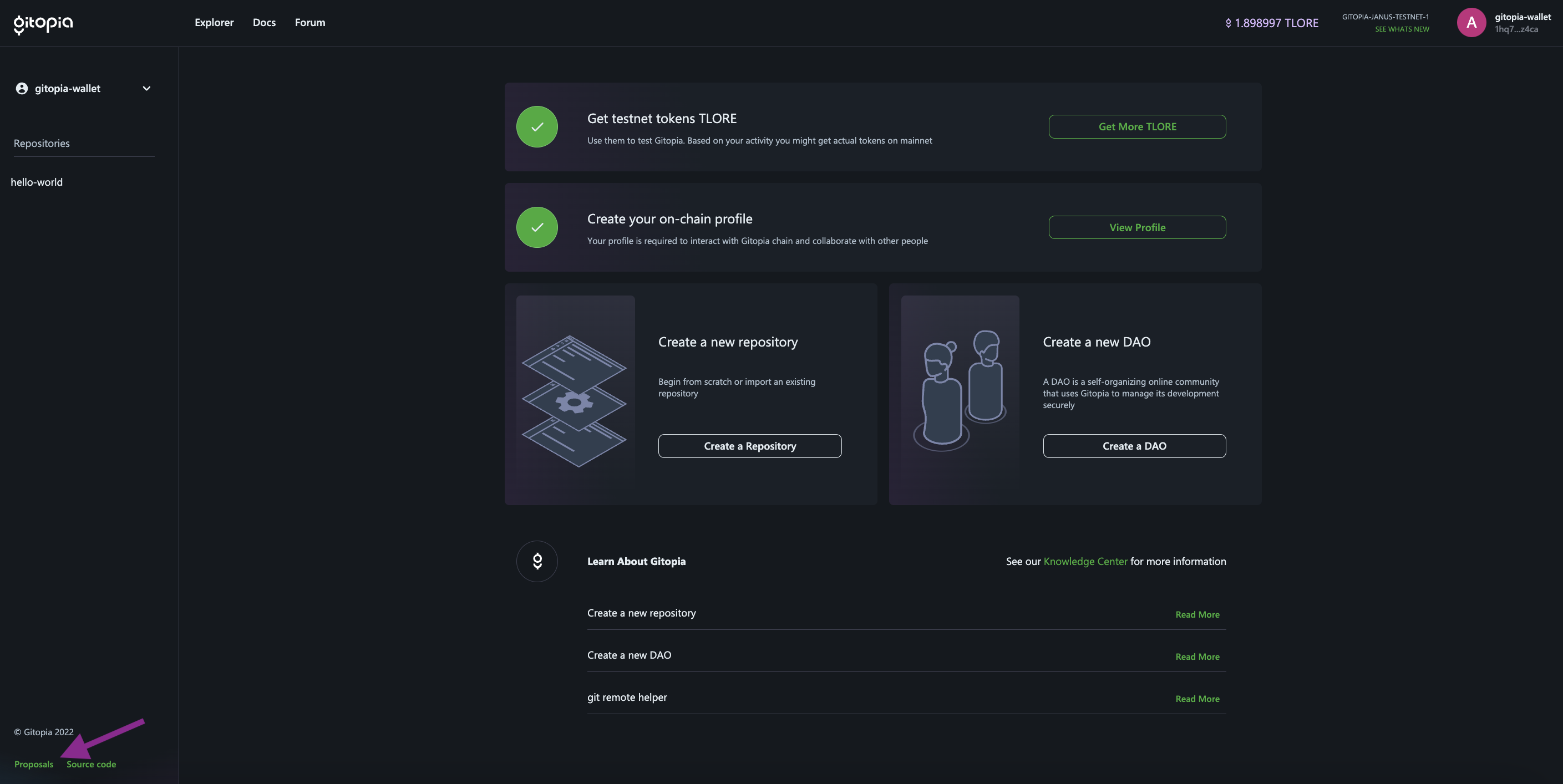 Step 2: Create a New Proposal​
You can see the history of past and currently active proposals on this page. Click on CREATE NEW PROPOSAL to get started with submitting your proposal on-chain for voting.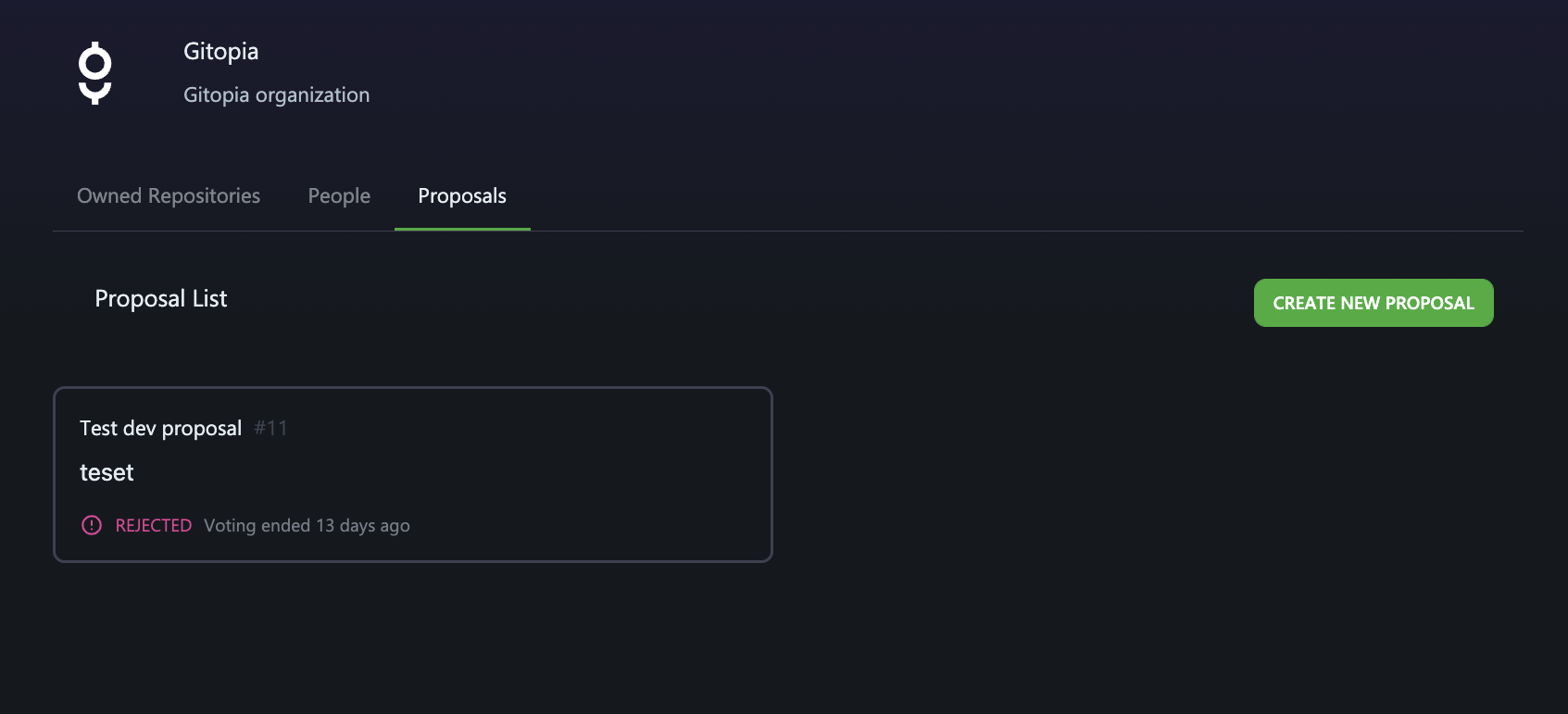 Step 3: Select Proposal Type​
First click under the PROPOSAL TYPE to select the kind of proposal you are making. Depending on the type selected, you will be asked to fill in the respective details in the form.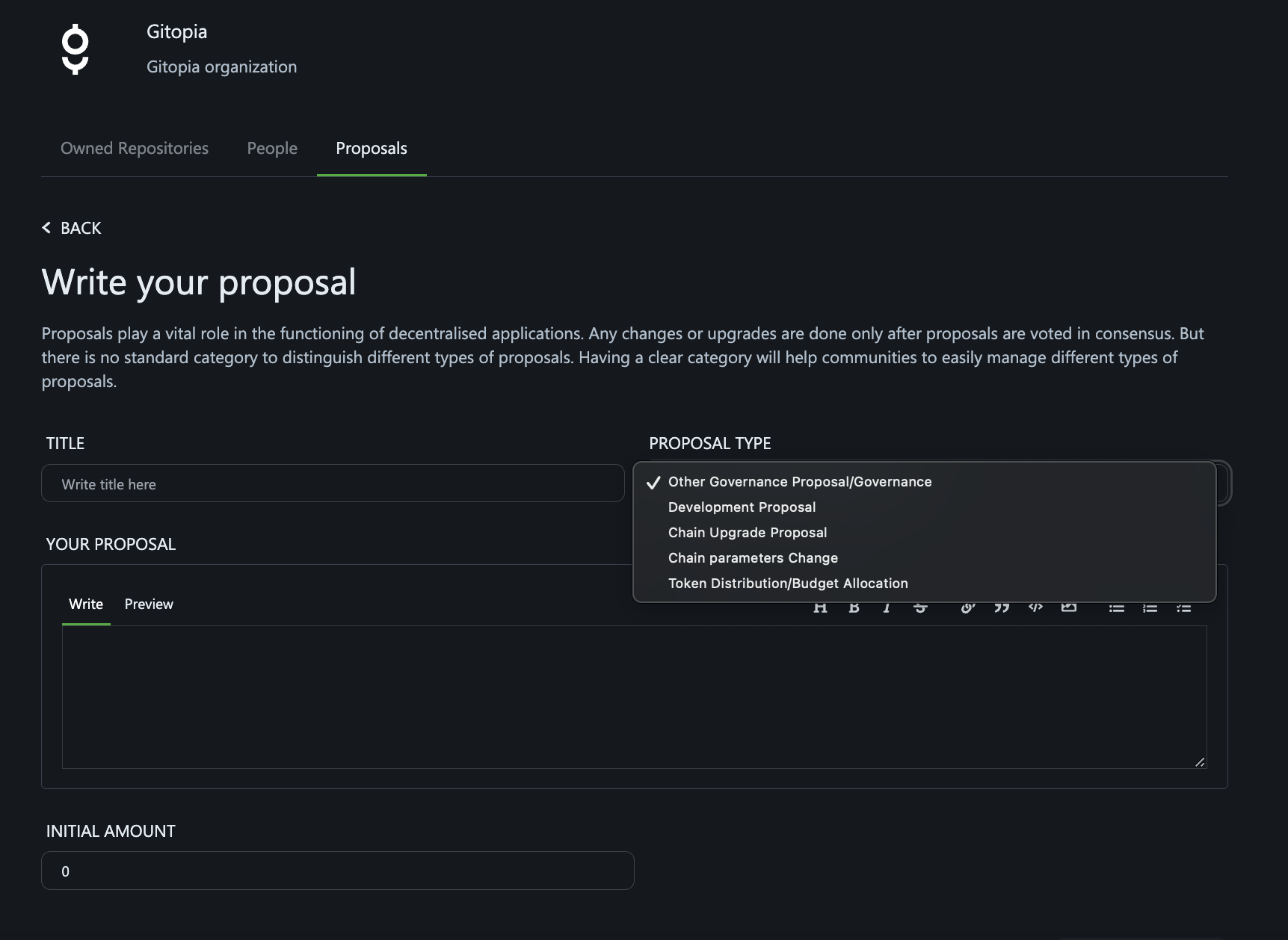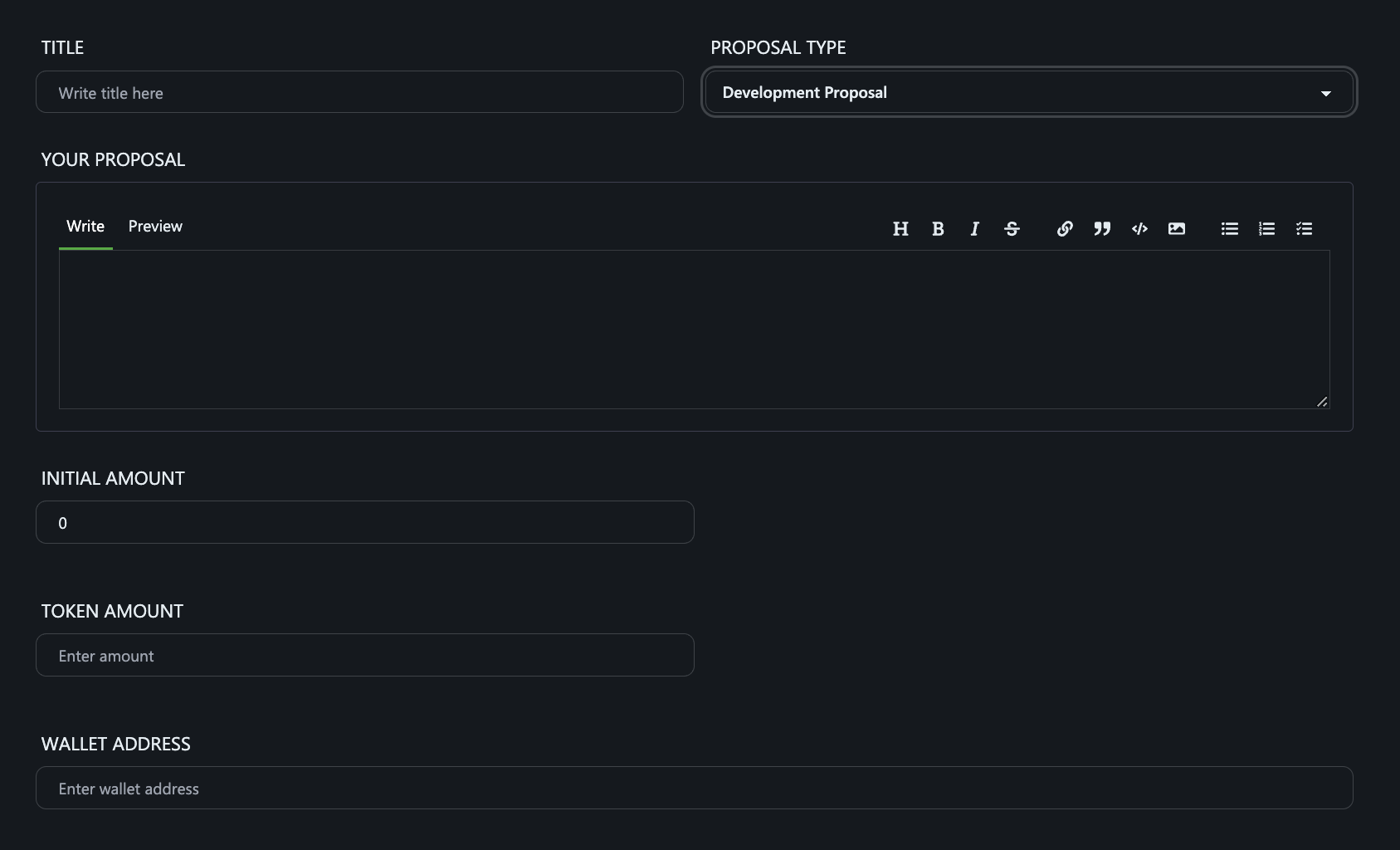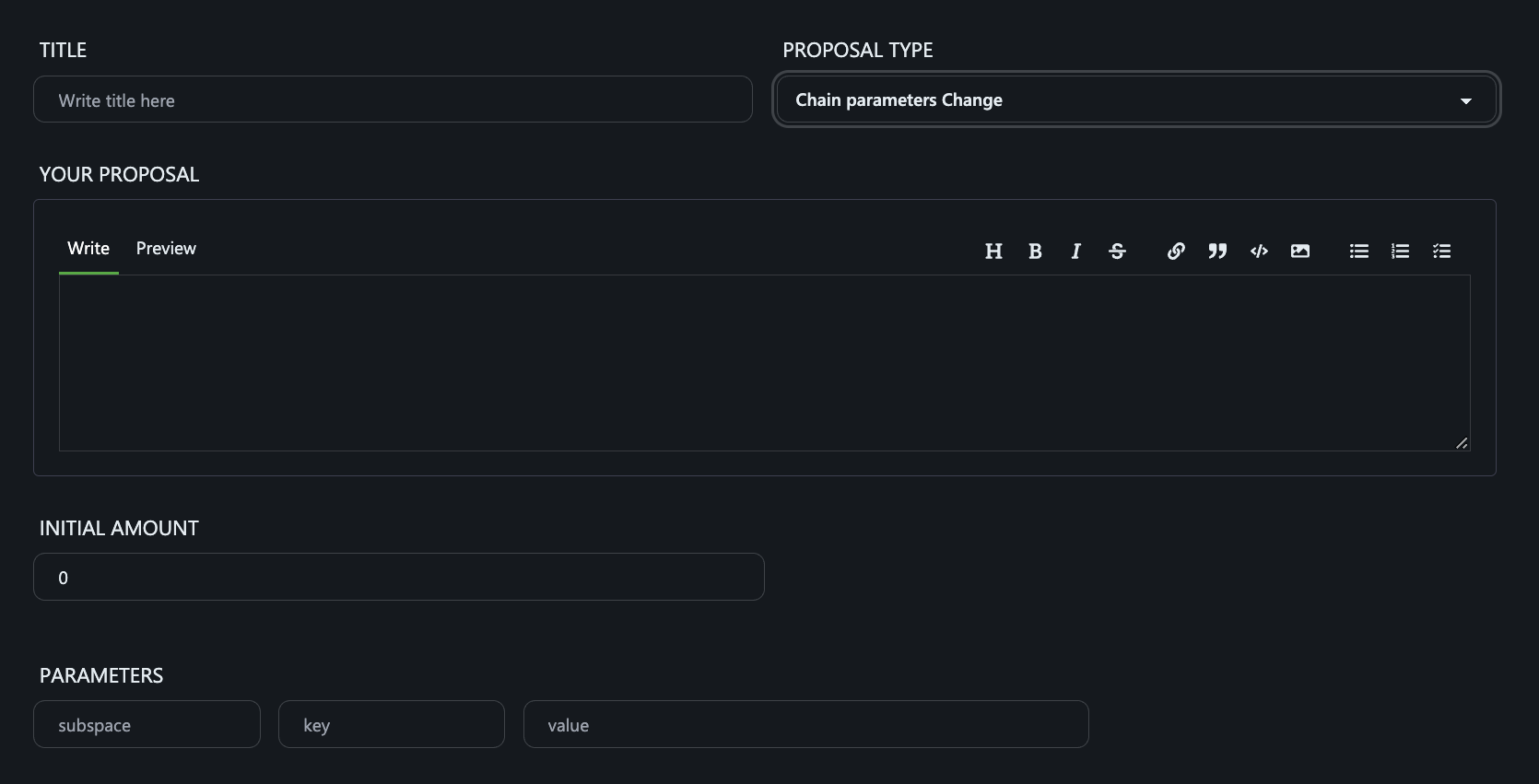 Token Distribution / Budget Allocation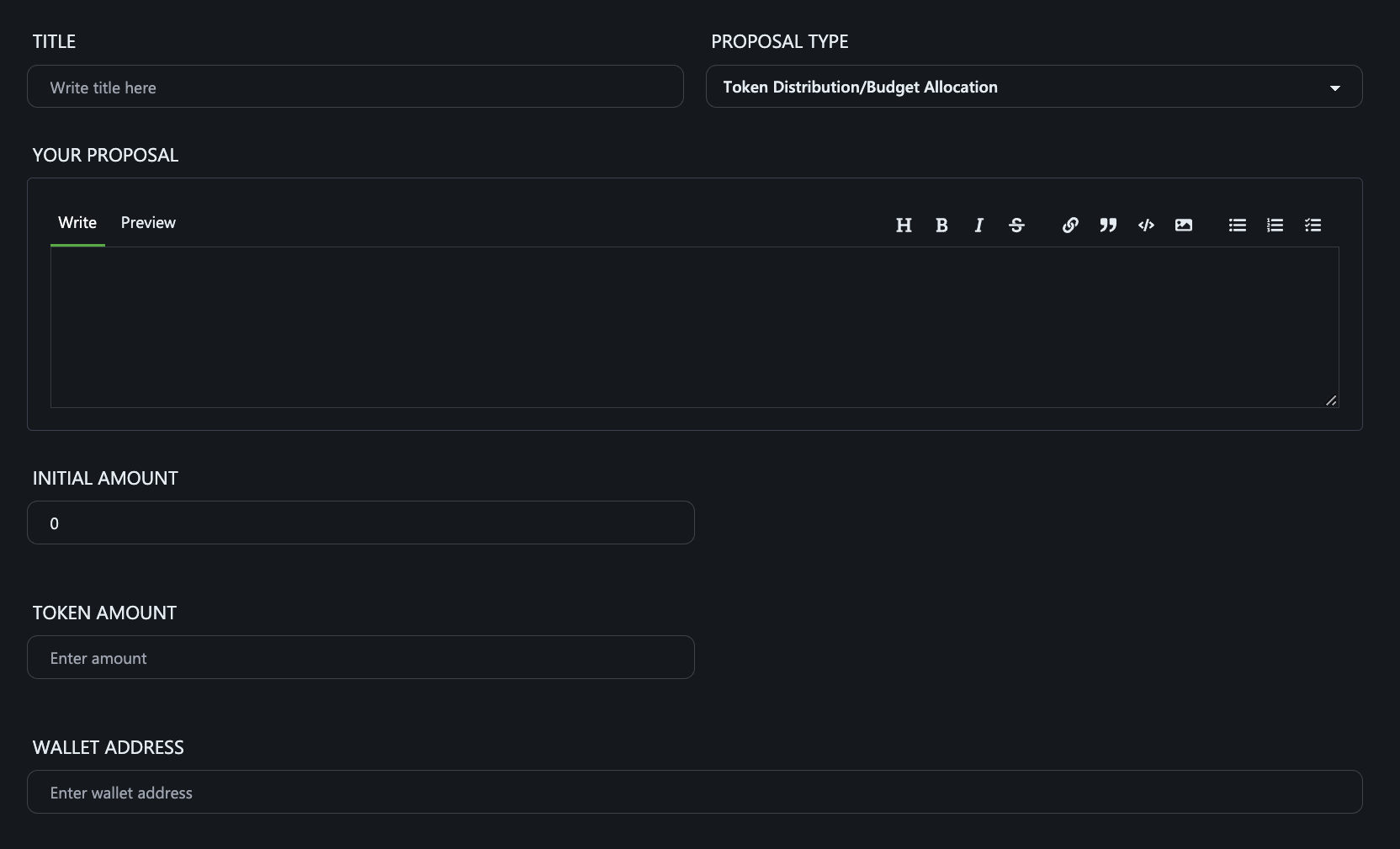 Other Governance Proposals
Step 4: Fill in the Details​
Once you have properly filled in the details, click on Submit Proposal.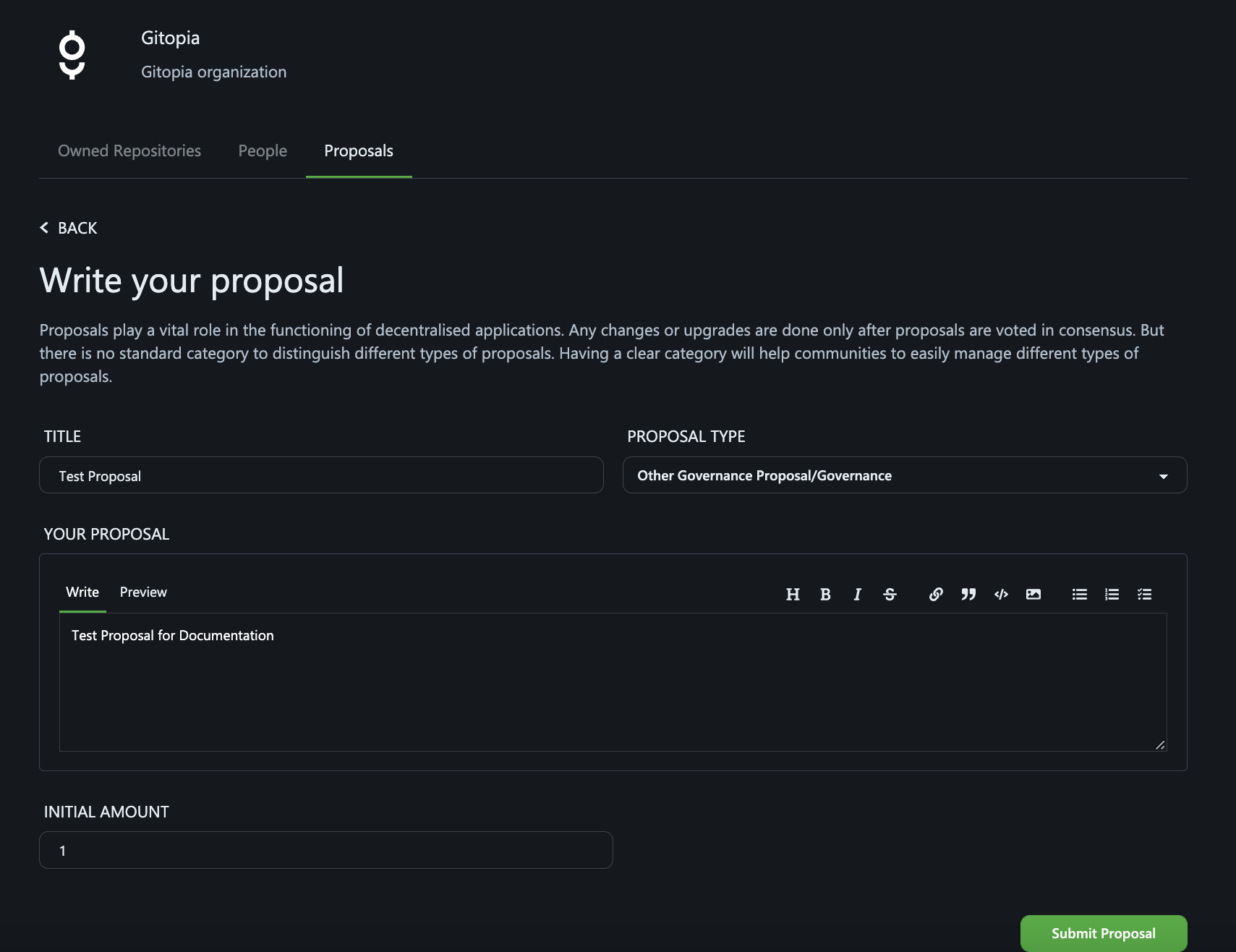 Step 5: Deposit Period​
Once the proposal has been submitted on-chain, the deposit period will begin. For a proposal to be considered for voting, a minimum deposit of 10 LORE needs to be deposited within 2 days from when the proposal was submitted.
Any LORE holder can contribute to this deposit to support proposals, meaning that the party submitting the proposal doesn't necessarily need to provide the deposit itself.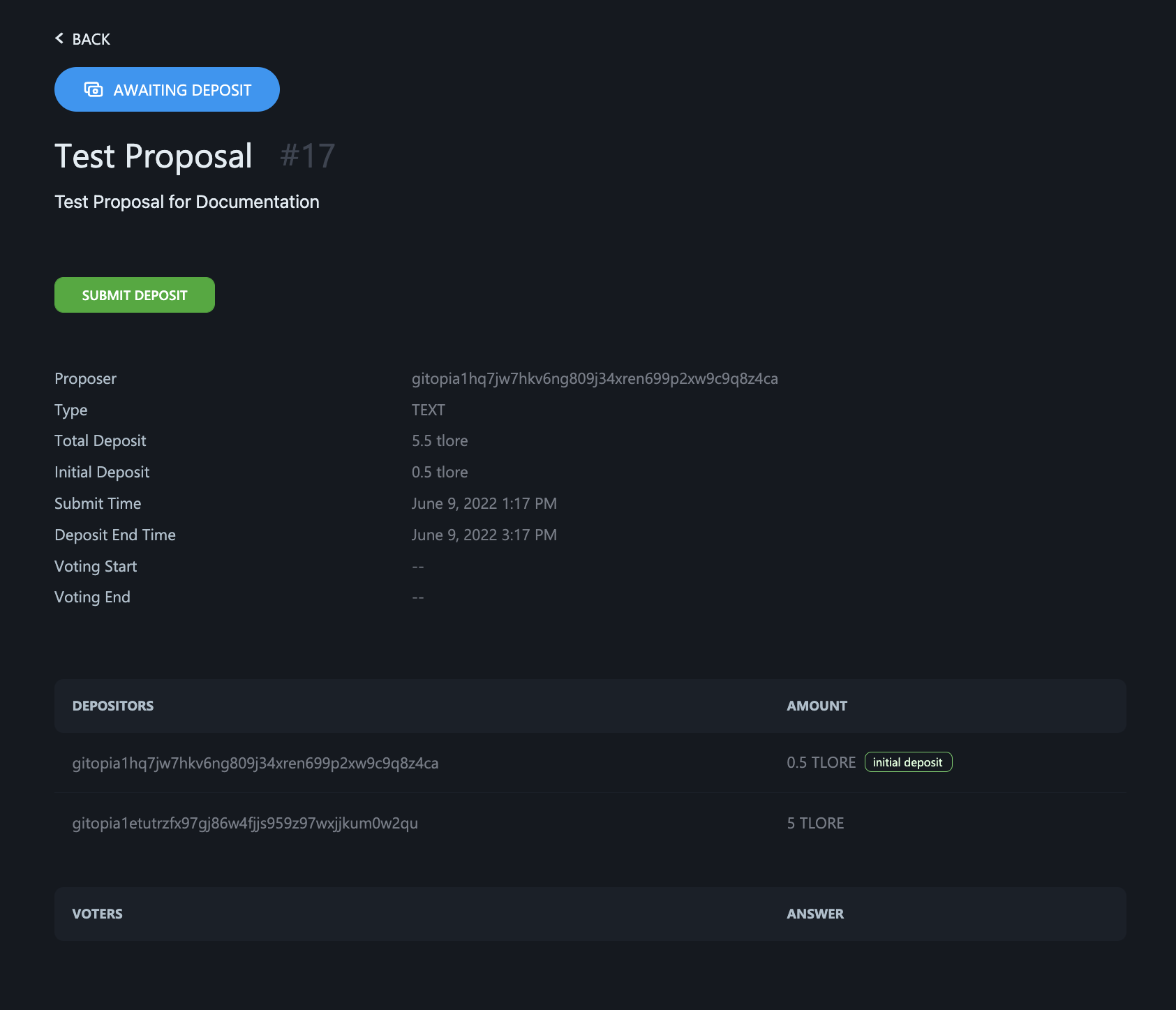 Step 6: Voting Period​
Once the minimum deposit of 10 LORE is reached, the 2-hour-long voting period begins. During this period, LORE holders can cast their vote on that proposal.
There are four voting options ("Yes", "No", "No with Veto", and "Abstain"). Voters may change their vote at any time before the voting period ends.