DAO Profile and Dashboard
Gitopia DAO provides a unique, censorship-resistant, and permanent identity for your Opensource and Web 3.0 projects on the blockchain.
DAO Profile​
DAO profile is a public social page for your DAOs on Gitopia. DAO profiles help give a detailed overview of your projects to contributors and help them stay up to date with the latest developments in your projects.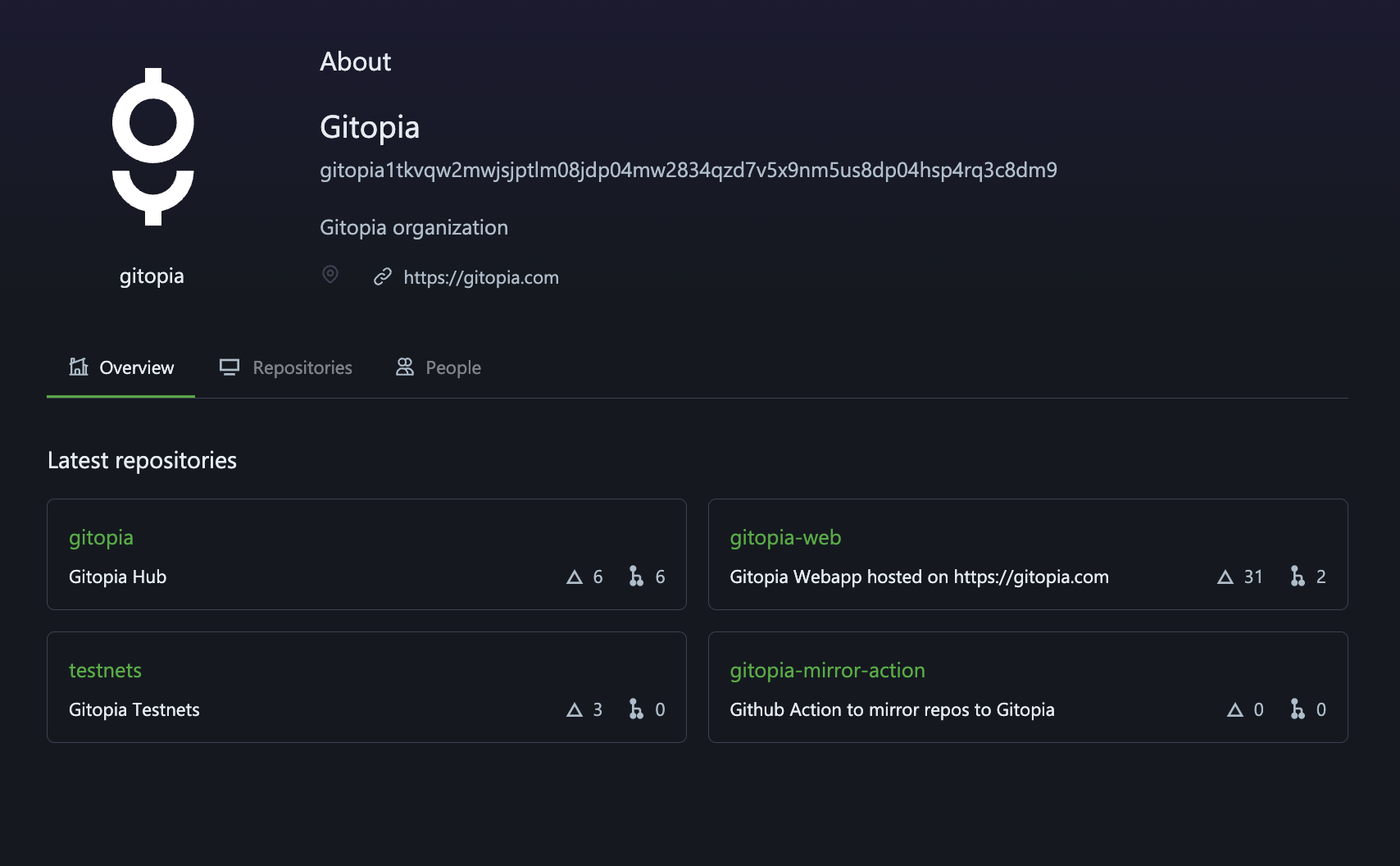 Each DAO profile consists of
A unique Web 3.0 identity for your Opensource projects: A unique human-readable DAO name registered on the Gitopia blockchain against your DAO address, providing a Web 3.0 identity for your Open-source project.

Social Share link: All projects on Gitopia will now have a unique slug to share on social media. All details related to your projects are now available on gitopia.com/yourDAOname.

Description of your project: You can set your project logo and add a brief description of your project with essential links for the contributors to access quickly.

Overview: This section provides your contributors with access to the latest development on your project by providing information about the repositories with recent commits.

Repositories: This section provides the list of all the repositories in your DAO.

People: This section provides information regarding all the collaborators and their roles in the DAO.
DAO Dashboard​
DAO Dashboard acts as a control center for managing the DAO created on Gitopia. Currently, you can add collaborators, add new repositories and provide authorizations specific to your DAO from here. More DAO-specific features will be added in future upgrades. If you want to suggest any feature to be added to the DAO, you can let us know by raising an issue on the Gitopia repository or by posting your feature request on Discord.